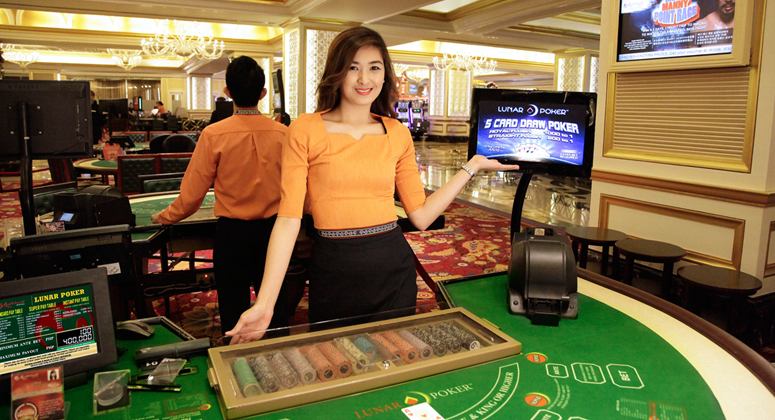 Lunar Poker
Overview
Lunar Poker is designed to meet the demands of passionate players who relish competing against the house.
How to Play
Players place their Ante Bet and Super Bets (optional).
Players and the dealer are dealt five cards with the first cards being dealt to the players in a clockwise direction from box 1 to 5, followed by the dealer until all live boxes and the dealer have been dealt 5 cards. The dealer's bottom card will be dealt face up on the layout.
Players check their cards. If players have Royal Flush or Straight Flush, they win Instant Payout on their Ante, no extra bet required, and their round is over. Players must declare if they have Super Payout and Super Bets are paid or collected accordingly. Players then decide if they want to:

FOLD- lose the Ante.
EXHANGE- pay 1xAnte to exchange 2-5 cards
BUY a 6th Card- pay 1x Ante for 6th card
PLAY- proceed with the round of play by placing a "BET" wager of 2x Ante.

Once the players have made their decisions, dealer reveals the house cards and makes the best poker hand. Dealer qualifies with Ace-King or higher on their first 5 cards.

If dealer qualifies – dealer compares the house cards to each player, if player's hand beats the dealer pay accordingly.
If dealer does not qualify- player has the option to Force the dealer to try to qualify by paying 1x Ante. After making the payment, dealer will discard the highest value house card and will take a replacement card from the top of the deck in play.

If the dealer qualifies, the hands are compared and winnings, if any, are paid as per procedure.
If the dealer still not qualify, all wagers are PUSH and the hand is over.

Double Payouts: a winning player hand will get paid on a 2nd Poker Combination, even if it doesn't beat the Dealer's hand, as long as 1 card in the 2nd Poker Combination is not in the winning 1st Poker Combination.
Try to beat the House with Lunar Poker.
Floor Maps: