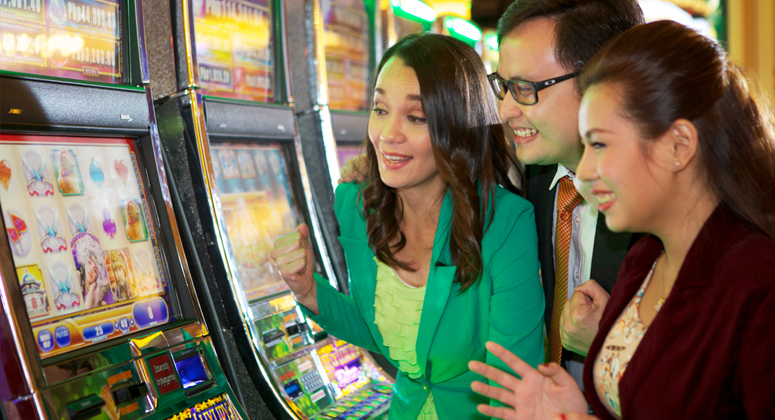 Slot Machines
Overview
Slot machines have different number of reels and paylines, they differ by the number of winning combinations, by the featured bonuses and symbols. Most of the slots are themed but some of them still use classic symbols.
How to Play
Insert your membership card into the card reader
Key in your Personal Identification Number (PIN) andp press ✓ to activate. Your name will appear as a confirmation message.
Insert cash note into the bill acceptor on the machine. Only Php100, Php200, Php500 and Php1,000 notes are accepted.
Press the bet button to choose the amount of your wager. Press the line button to choose how many lines you are betting on.
Press the start button (if applicable) to begin the spin.
Your winning will be automatically transferred and indicated on the credit meter. Otherwise, press "take win/collect" button to transfer your wins (depending on the game type).
To transfer your winnings to your card, press the "collect" or "clock out" then ✓ button at the card reader.
Cards can be used at any slot machine inside Resorts World Manila.
You may press the help button for assistance, or ask any Slots Personnel.
Change Your Pin
Got to any slot machine and insert your membership card into the card reader.
Enter the default PIN of 1234 and press ✓.
Key in your new PIN and press✓ to enter.
Key in your new PIN again when prompted, then press ✓.
Press ▼ and choose "clock out" to eject your card and press ✓ to proceed.
Check your PIN by re-inserting the card and using your new PIN.
Known as slot machines in the United States, fruit machines in the United Kingdom and a poker machine or "pokie" in Australia.
Floor Maps: