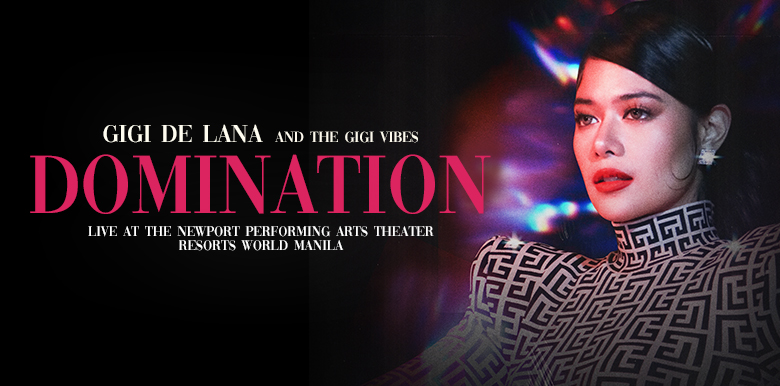 Gigi De Lana Domination
Newport Performing Arts Theater
Asia/Manila
Gigi De Lana Domination
Youtube singing sensation Gigi De Lana is ready to conquer the big stage in her first solo concert For more information, please click on the link below http://www.newportworldresorts.com/events/newport-performing-arts-theater/gigi-de-lana-domination
Newport Performing Arts Theater
Add to Calendar
Buy Tickets
Singing sensation Gigi De Lana is ready to rock the concert stage live in her first on-ground solo event, "Domination," happening on March 5, 2022 at the Newport Performing Arts Theater in Resorts World Manila.
"Domination" is ABS-CBN Events' first concert with a live audience to be presented at the venue since the pandemic began in 2020. Joining ABS-CBN Events is Resorts World Manila as co-producer.
The concert will also be streaming live on KTX.ph for the enjoyment of the fast-growing fanbase of Gigi and her band, The Gigi Vibes, around the world.
Gigi, Jon Cruz (keyboard), Jake Manalo (guitar), and Romeo Marquez (drums) will bring not just their musicality on stage but also their charm and fun dynamics as they deliver a fresh repertoire of songs that have never been played in their online gigs.
One of 2021's breakthrough stars who headlined the YouTube Music Night and featured as one of the performing artists in 1MX Dubai last December, Gigi welcomed 2022 with a bang with the release of her self-titled debut album featuring her hit single "Sakalam." She also recently gave life to "Nasa'yo Ako," the official soundtrack of "Viral Scandal," and "Bakit Nga Ba Mahal Kita," which serves as the OST of "Hello Heart."
Tickets are available via Ticketworld.
Platinum - PHP8,000 (Platinum),
SVIP - PHP7,000
VIP - PHP6,000
Gold - PHP5,000
Silver - PHP3,500
Bronze - PHP1,500
Meanwhile, those who will catch the show online can purchase tickets on KTX.ph at P695 (SVIP), P495 (VIP), and P195 (regular).
Don't miss Gigi and The Gigi Vibes live onstage in "Domination!"