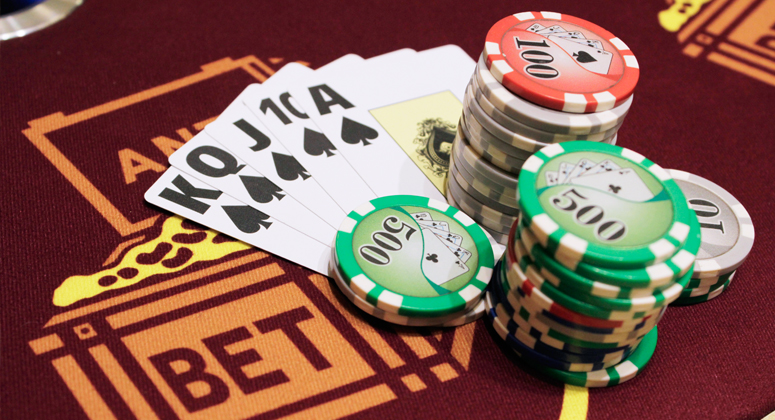 Casino Stud Poker
Overview
Suttle would later sell it to Danny Jones, owner of the King International Casino in Aruba (now the Grand Holiday Casino). At first, Casino Stud Poker gained a small amount of success. Jones was given the suggestion of adding a progressive jackpot by a poker player who was also a computer programmer that developed the software for progressive betting. Casino Stud is based on Five Card Stud, a variation on Poker. The game is played with a single deck of 52 cards. The game is made more challenging and exciting because players have the additional chance to win a Progressive Jackpot Payout, as a side wager.
How to Play
Before the cards are dealt, players must place an Ante Wager (required) and Progressive Jackpot (optional).
Five Cards are dealt to each player, after all cards have been dealt, the players pick up their cards and decide if they wish to Bet or Fold. Players are not permitted to talk or communicate while looking at their cards.
If you think that your hand will beat the Dealer and you must make another bet that is double your original Ante. If you do not want to play the hand, you must Fold by placing your cards face down on the table and the Dealer will take your Ante Bet.
Once all players have set their "Bets or Folded", the dealer then turns his/her cards face up pushing forward the best Poker hand.

If the Dealer opens and does not have an Ace and King or better , players Ante's are paid at Even Money. After all Ante's are paid, the Dealer checks each hand in turn for any jackpots.
If the Dealer opens and your hand beat the Dealer, players are paid Even Money for the "Ante" and the appropriate odds for the Bet. If the Dealer's hand beat your hand the Dealer shall take both your Bet and the Ante.
If your hand qualifies for a jackpot payout, the Dealer will pay the jackpot amount after your Bet and Ante have been paid.
Caribbean or Casino Stud Poker was developed in the 1980s by a man named James Suttle.
Floor Maps: