At Cru Steakhouse, we work to capture the flavor of quality-grilled beef and more. Steaks are hand-cut, well seasoned and carefully prepared. Salads are freshly made and desserts are simply divine. Our multi-awarded restaurant exudes a sophisticated dining experience with its modern décor and elegant open-themed kitchen as the pièce de résistance.
Truly one of the most enjoyable experiences every meat lover will agree on is sinking their teeth into a delectably juicy steak. At Cru Steakhouse, we make this experience even better. Introducing dry ageing—a unique method that involves hanging the meat in a refrigerated cooler. The meat is kept at a specific temperature and humidity from 10 to 28 days and comes out with a new array of flavor and depth. Cut deeper into Cru Steakhouse's specialty, the US Prime Rib Eye, and get to know a world of flavor and hefty satisfaction.
Awards and Recognitions:
Philippine Tatler's Best Restaurants Guide – 2010-2015
Beef and Burgundy Club Philippines' Best Restaurant of the Year – 2010 and 2012
Philippine Daily Inquirer's Best Desserts – 2013
Eat Out Now! Manila and Cebu 180 Restaurants We Love - 2014
Manila's Best Kept Restaurants 2014
Operating Hours:
6:00 PM to 10:30 PM - Sunday to Thursday
6:00 PM to 11:30 PM - Friday to Saturday
Ambiance:
Smart Casual
*Important Notes: Diners are reminded to be dressed in smart casual attire; slippers and shorts are discouraged. Children under the age of 10 are discouraged to dine to maintain an adult-only formal atmosphere.
Type of Cuisine:
Steakhouse
Location:
Ground Level | Marriott Manila Main
Contact Numbers:
+63 (2) 8988 9999
+63 917 659 5420
Website:
DINING PROMOTIONS
Check out our latest dining promotions around Newport World Resorts.
Restaurant Logo: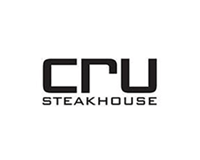 url:
https://www.opentable.com.au/restref/client/?restref=30026&corrid=38276040-079b-4b23-9828-3fa76fae5d66&utm_source=nwr_web&utm_medium=button&utm_campaign=reservation